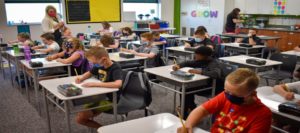 Welcome to Planning and Enrollment 
Planning and Enrollment directs the work of accounting for our diverse student population to provide resources for a balanced and successful education.  Planning and Enrollment also oversees the development of school calendars, maintains school boundary information and develops student enrollment projections.
---
Apply for a School Year 2021-22 permit to attend a school other than your boundary school:
Use these links to apply for a permit for the school year that begins August 2021.
ALPS and DLI (Dual-language Immersion) students do not require an out-of-boundary permit to participate in these programs; as long as they are accepted into the program, they may attend the program school.  For additional School Choice information, and a link to apply for a current year permit, visit "Open Enrollment/School Choice".
NOTE:  Parents/guardians who applied for a permit during the school year 20-21 and were not granted a seat (are still on a waitlist), must re-apply for a permit to attend a school next school year 2021-22, if the school you wish to attend is not your assigned boundary school.  If you were already granted a seat (permit), there is no need to apply.
---
We can also assist with:
---
To view the most recent updates to our school year, Covid-19 information, and other information that may impact students, parents and JSD staff in the 2020-21 school year, click below: