---
Boundary Changes
Three school boundary changes have been considered by the Jordan School District Board of Education. Two changes would be implemented for Fall of 2021 and one change in the Fall of 2022. No secondary schools will be impacted by these proposed changes.  Visit boundary.jordandistrict.org  for a more detailed explanation.  The new elementary school boundaries may be viewed in the links below.
---
Maps
As a result of student projections and boundary planning, our department has a variety of maps for school and public use.  Interactive maps using ESRI software and Google maps are available below, as well as a printable .pdf map of all our schools and their locations.  Individual interactive school maps may be found on each school's profile page on the Jordan School District website.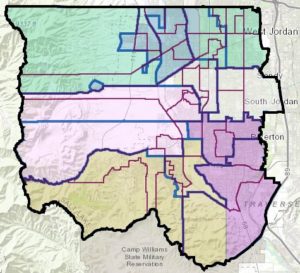 ---
Bus Stops
To determine which school your student should attend, click "Find your School Boundary & Bus Stop" or the icon below to be directed to the Edulog WebQuery screen.  If the address indicates your student is "eligible" for a bus, click the school's link to see the available bus stops. You may confirm bus stop information with the Transportation Department at 801-567-8840 or your local school.
Find your School Boundary & Bus Stop
The New South Jordan Elementary School's Walk Boundary is currently "under construction".
---